So here come the Democratic "ex's" into view. None have so much as even mentioned the word "candidate," or whispered in John Maginnis' ear, or filed the appropriate forms, or done much of anything. But unsurprisingly, these two darkhorse candidates have started to stir the pot, ever so subtlety.
With no further delay, let's consult the rumor mill:
Our first "ex-" is the proverbial elephant in the room. Or more accurately, her prodigious campaign account is the pachyderm. Kathleen Blanco continues to linger as a possible Democratic candidate for Governor. And with the odds increasing that no new blood will step up to challenge Jindal this fall, Blanco's $2.2m campaign warchest looks more attractive than ever. The simple fact remains that while she was heavily damaged by the fallout from Rita and especially Katrina, Blanco never tested the waters again after 2005 and bowed out of 2007 before facing what likely would have been a damning indictment of her political career. There are many reasons why she would not be a good candidate. However, an election between Blanco and Jindal would be a battle of epochal referendums. When were you better off? During the Jindal administration, or during the pre-katrina Blanco administration? Not a winning argument, but certainly an argument. More importantly, she has the political gravitas, and the money, to take the fight directly to Jindal. Her name recognition is probably near 100%, and with more than $2m already in the bag, she could start strong, and start late. With a short campaign season, starting nearer to Labor Day than any other candidate could, she could make Jindal's fall a lot rockier than he expects. Hers is a turn-key operation. And that counts for a lot these days.
The oth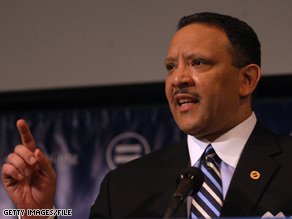 er "ex-" is a much longer shot, but his name has repeatedly surfaced as a possible counter-weight to Jindal. Former State Senator, and New Orleans Mayor Marc Morial has also been mentioned in Democratic circles as someone that has the drive, if not the money or the plan, to take Jindal on in the fall. Even the thought of Morial taking his act onto the Statewide stage makes some shudder and others giggle. He personally dodged the ethical problems that plagued his last New Orleans administration. He also failed to convince New Orleanians that he deserved a third term (just as his father had failed to do). But Morial's work as President of the Urban League has expanded his political base and made him a nationally renowned figure. The simple premise of an African-American Democrat winning statewide continues to be unlikely. White Louisianians, Democratic or not, have avoiding supporting black Democrats from New Orleans before, strongly turning Bill Jefferson and Cleo Fields away from the Governor's mansion by large margins. Nevertheless, times may have changed, and Morial might relish a free shot at Jindal that would quickly land him back in the mix in Louisiana as a definite power-player, win or lose.
Neither of these Louisiana "ex-'s" are likely candidates, and certainly aren't likely winners. But in this swirling vacuum of Democratic politics in Louisiana, maybe we're due for a blast from the past.